Membership Plus Application Form
Contact us for more details and offers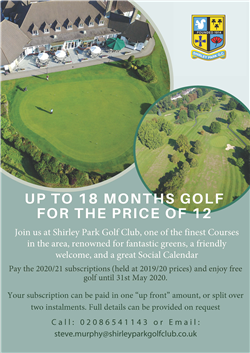 Shirley Park prides itself on the friendly atmosphere in the clubhouse, and the warm welcome offered to new Members.

The course has a fantastic reputation in the area for having the finest greens, and a challenging but fair layout. The course was designed by Tom Simpson and Herbert Fowler in 1914, and is a fine example of their world renowned course construction. They had a hand in such luminary courses as Pebble Beach, Walton Heath to name a couple.

We have numerous Competitions throughout the year, but there is always an emphasis on friendly golf. Regular groups are always looking for new players to join them.

An active Social Calendar, including many "Tribute Bands" Race Nights, Quizzes, Wine Tastings, Sunday Carvery etc are put on for members and their guests.

Contact Tonia Porter or Steve Murphy for details. Contact details on the Contact Us Page.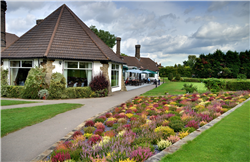 Click on the Course Page, under Golf, to view each hole in detail. Course fly-overs are also available on this website.

When you walk down the fairways of Shirley Park Golf Club it's hard to believe you are only one mile from East Croydon station. This is because an open park area on one side and the wooded Shirley Hills on the other flank our Surrey countryside golf course.
Our generous fairways accommodate all levels of handicap golfer and our undulating greens are commented on very favourably by amateur and professional alike, as being amongst the best maintained in Surrey.